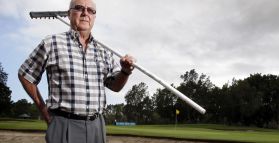 Ladies Masters tournament director Bob Tuohy.
Terry Wilson, Golf, Gold Coast Bulletin
THE second longest running major sports event on the Gold Coast, the Australian Ladies Masters, appears dead in the water.
An announcement on Friday morning confirming that a new women's event, the ALPG Players Championship, all but spells the end of the Masters being played on the Coast.
The first Players Championship will be played at Royal Pines Resort in February, 2017, and be a part of the Australian Ladies Professional Golfers schedule that includes the Australian Women's Open.
RACV Royal Pines corporate communications manager Robert Hogan issued a release that said the Players Championship will replace the Ladies Masters.
"That's a matter for Bob Tuohy (Masters tournament chairman), not for us," Hogan said when asked what is likely to happen to the Masters. Mr Hogan said the Players Championship continues the strong association between RACV Royal Pines, the ALPG and the Australian PGA.
The Ladies Masters has been played on the Gold Coast since 1990 and is second only to the Magic Millions racing classic as the longest running local major sporting event.
American Jane Geddes won the first two Masters in 1990 and 1991 before the event switched across the Nerang River to Royal Pines from 1992. Mr Tuohy was unaware of the Players Championship announcement when contacted today.