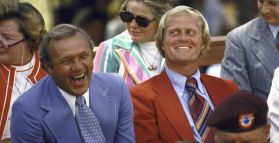 It's good to be a golfer.
Forbes recently ranked the 20 highest-paid athletes of all time, and one-fourth of the list is comprised of current or past PGA Tour players -- more than any other sport. Three golfers landed in the top four.
Forbes' estimates bring into account salaries, bonuses, earnings, endorsements and licensing through May 2016.
Michael Jordan held down the top spot with $1.7 billion, but he barely edged Tiger Woods ($1.65 billion), who ranked second. Arnold Palmer ($1.35 billion) was third and Jack Nicklaus ($1.15 billion) was fourth. The other two golfers on the list were Phil Mickelson (8th, $760 million) and Greg Norman (12th, $680 million).
By Golf Wire
www.golf.com
Photo by Heinz Kluetmeier