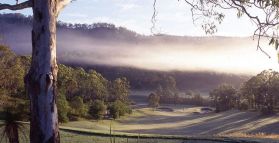 Queensland's Kooralbyn Valley Golf Resort is preparing to unveil its dramatic overhaul. The once iconic club hopes to return the course to its glory days, and change Australia's perception of what a golf resort should be.
THE rebranded Ramada Kooralbyn Valley promises to be many things.
A reinvigoration of the Desmond Muirhead layout; opening of a Ramada resort boasting 6-star service at 4-star pricing; outdoor cinema; southeast Queensland's first hot spring; wine tasting; kids' playground; 36 holes of mini golf; sports centre and health retreat.
The brochure claims Ramada Kooralbyn Valley will be the "world's first and only integrated eco-health and wellness resort, retirement retreat and international college incorporating private airport, championship golf, polo, hot springs, Garden of Eden, vineyard, koala/kangaroo centre, full sports facilities and much more."
How could there possibly be more?
But to appreciate what the future holds at Kooralbyn Valley you must first have an understanding of its history and the indelible impact it has had on Australian golf.
When the course first opened in 1979, it lay claim to being the first golf resort of its kind in Australia and helped to drive the Gold Coast golf boom of the 1980s.
Kooralbyn Valley is situated one hour west of the Gold Coast in what locals refer to as the 'Scenic Rim'. The dramatic topography on which it was laid out introduced cart golf to Australians and quickly became a popular playground for the rich and golfing elite.
"It was a very iconic golfing landmark. It was on everyone's list," recalls Phil Scott, who would send his son Adam to complete his final two years of schooling at The Kooralbyn International School.
"Back in the early '90s, Kerry Packer used to come up here and play golf. He used to come out to Hope Island when I was there and he always went to Kooralbyn as well.
"It was the first golf resort of its type in Australia and certainly one of the early ones.
"When people started travelling up to the Gold Coast for golf, they played Palm Meadows, Sanctuary Cove and Kooralbyn.
"It was on every tour operator's list."
While the school thrived and produced two subsequent Major champions (Adam Scott and Jason Day, who first met his coach Colin Swatton while a student at Kooralbyn in 1999) and two Young Australians of the Year (Cathy Freeman and Scott Hucknull) the resort began to lose much of its lustre.
Originally built by Peter Abels and George Arthurs in 1973, Kooralbyn was sold to a Japanese hotel group in 1988 and to New Zealand hotel operator Ray Schofield in 2002.
Despite the golf course hanging on to its place at No.83 in Australian Golf Digest's Top 100 Courses ranking in 2008, the resort was placed into receivership and laid idle for five years before Yong Real Estate founder Peter Huang purchased it in June 2014.
Initially, Mr Huang planned $10 million in upgrades to the golf course and wanted it open for play by July. However, the doors won't open until February 5, allowing many Aussie golfers the chance to relive fond memories of past rounds here.
"It was just this incredibly Australian property and that's what its appeal was to me," said Scott, who was engaged to conduct a redesign of the layout but the previous owners only got as far as a new putting green.
"There were some lovely holes, but I don't necessarily think about it in terms of having the best par 3 you'd ever seen or the best nine holes you'd ever played. It just struck me that it was so uniquely Australian.
"It was just playing in the hills out there and the holes were going up and down; it was Aussie scrub. There was a big ravine on some holes that was famous for having copperhead snakes in it.
"The course had a big reputation then of being a difficult layout and they ran what they called the Copperhead Challenge. If you beat your handicap you got a dozen balls.
"It was a very interesting sort of resort and very much representative of Australia really. You're out playing in Australian bushland.
"It was once a landmark of golf up here. But the last time I was out there, it was at a point where you wouldn't bother paying 10 bucks to play it. The irrigation wasn't working properly, the fairways were just weeds, it was just awful and it was very sad to see that. As a golfer you think, Oh, what a waste."
Muirhead's design of the 220-metre par-3 fifth – that drops some 100 feet – featured in Robert Muir Graves and Geoffrey S. Cornish's book, Classic Golf Hole Design, and was one of a handful of show-stoppers during a round.
In its golden days, Kooralbyn was an accessible version of Packer's private Ellerston course that would come some 25 years later.
A Legend Born Again
While golfers have fond recollections of Kooralbyn, its recent history has belied its idyllic setting. Since closing its doors in a largely dilapidated state in 2008, Kooralbyn was the subject of a number of failed sales and negotiations. However, when purchased by JHC Holdings, there was a sense of excitement in the community.
Kooralbyn has served as little more than a reminder of the good old days as it was left to ruin over a period of six years. Now it is on a path to a future bigger and brighter than the original could ever hoped.
More than simply a playground for visitors, Kooralbyn will once again offer memberships starting from $880, with a family membership for two adults and two children under the age of 12 costing less than $2,000.
"I only played it once, about 15 years ago, but it always sticks in my mind that it seemed the most natural golf course I had ever played. It just seemed to fit into the landscape," one user posted in a popular golf forum.
"Those who got up there for a game in its early days were blown away by the size of the complex and the great future plans they had for the place," added another blogger.
It's a treasure of Australian golf that had fallen off the map. So when the doors do open again in February, it is critical that we all share in its renaissance – spend time on the driving range where the great Norman Von Nida and Col Swatton watched over the swings of golfers of all ages; test yourself on the course that honed the games of Major champions Scott and Day; and relax in the resort pool, imagining how the late Kerry Packer would have spent his downtime.
Stories shared in golf clubs across the country are treasures in their own right but nothing can match the thrill of a personal discovery and the tales that will be told for years to come.
DETAILS
Ramada Kooralbyn Valley Resort
Website: ramada-kooralbyn-valley.com.au
Email: info@ramada-kooralbyn-valley.com.au